Fridays are fun. Graham has a day "off" and typically after we wrap up school, I head out for some time alone time or run errands.
You know...
to stay
balanced
.
See how I did that?
So instead of giving you a play-by-play of our Fridays, I'll share my FIVE on FRIDAY: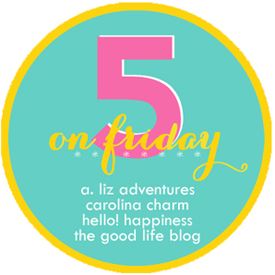 [ONE]
Joy is having a lot more playtime these days...
[TWO]
I made pumpkin bread! Does it count if it's from a box?
[THREE]
I finally got to go to the Gresham Barn Sale! I was in LOVE with everything and would move in if they would let me!
[FOUR]
Yes, these have to be the most ridiculous and hysterical wigs I've ever seen! Thank you, Target, for the good laugh!
[FIVE]
I think this is our first "selfie couple" pic. We're keeping up with the times!
*We may have taken one (a selfie) with a throw away camera on our honeymoon, but it doesn't count because it was long before the silly term "selfie" was coined!
**********
Up next: Just a Closer Walk with Thee
For more posts in this series,
31 Days of Balance as a Homeschool Mom
, click
HERE
.