After about a month break from Five on Friday, I'm glad to be back!
[ONE]
Monday was a SAD day around here...I ran out of my beloved Aromatique: The Smell of Christmas. It's my absolute favorite smell. all.year.long.
These are the kinds of love notes my husband leaves me...
The best part of waking up... is a fresh pot of coffee!
This week, I got the best deal!!! I have been wanting a 7X10 rug for my living room. I came across a beautiful rug at Target marked down from $159 to $79. I was really happy with the clearance price so I snagged it. Low and behold, when I checked out, it rang up for $44! How awesome is that? One day in the future, it will look nice on some hard, dark, floors! A girl can dream!
[FOUR]
Look who's standing strong...
She'll be ONE next week! ONE???!!!
Earlier this week, I mentioned changing up the
Happy Hostess Link Party
. I'm looking for a few more blogs to host the link party every other Monday. If you would be interested in helping with this link party, let me know by sending me an
email
.
**********
Did you get to check out these posts from earlier this week?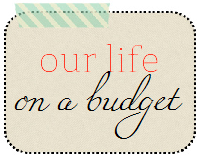 Guest Post: Our Life on a Budget
Easter Through the Years