This summer has been so busy for us. crazy busy. I feel like I have no time to just sit and breathe for a moment. Unfortunately, things don't look like they are going to settle down until mid-September. What that means around here? My blogging will continue to be sporadic until things calm down. But don't worry about What You Wish Wednesday! It is still going strong and will be up and ready for your links each and every Wednesday so get to posting!!
Enough rambling and on to the features from last week's party!
Courtney @ Sweet Turtle Soup shares her summer wish list and I'm loving her picks!
Miss Mandee is at it again and has created this lovely Cherry Blossom printable that is FREE for you to download and enjoy.
Tawnya @ All of Life's Little Adventures wrote such an inspiring post on fighting against the pull of materialism and idealism. I really, really resonated with her thoughts.
The Contented Wife
shared an excellent post on why we shouldn't follow our hearts. In a world that is constantly telling us to trust our hearts/instincts and go with what feels good we should stand guard and be alert to this message that is contrary to God's Word. After all, "t

he heart is deceitful above all things, and desperately sick; who can understand it?" Jeremiah 17:9
Thank you to everyone who linked up this past week. Again, I am loving our little link-up and all of the wonderful inspiration that has been shared. Features, feel free to grab a button for your blog.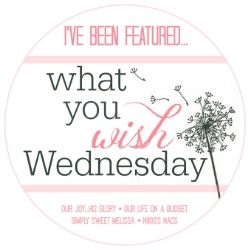 Alright-y! Let's get this party started! Here are the details:
Share a recent post from your blog.

Include the WYWW button and/or a visible link-back to this post.

Check out a few of the shared links.

By submitting a link, you are giving me authorization to feature your post. If your post is featured, I will include a picture and a link to your site to share the love!